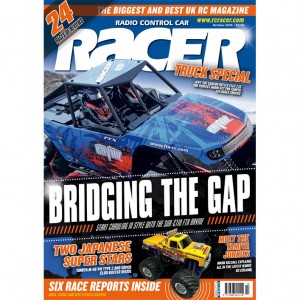 REVIEWS
24 TAMIYA M-06 VW TYPE 2 T1
In keeping with the period and perfectly matching the
vehicle it's modelled on, this M-06 chassis features a
rear-mounted motor and rear-wheel drive set-up. With a
proven platform below it sits the spilt-screen VW body
that looks absolutely stunning, complimented by features
such as scale wheels and side mirrors that add to the
quality of the overall package.
34 FTX RAVINE
FTX Ravine – despite its low price tag, the Ravine rock
crawler comes RTR complete with a Motor-On-Axle
design with multiple steering modes including four-wheel
steering. Other features like the multi-link suspension,
oil-filled shocks, 2.4GHz radio system, twin 380 sized
motors and a 2S 7.4V 1500mAh Li-Ion battery all included
as standard, but as usual, the proof would be out on the
trails so we headed outdoors to see just how capable this
sub-£110 package performs.
64 TAMIYA SUPER CLOD BUSTER
The Super Clod Buster was Tamiya's replacement for the
original Clod Buster and could be clearly identified by the
blue moulded plastic parts that were included instead of
the red. In this issue, we build and run the truck ahead
of treating it to a thorough overhaul, adding some option
parts to make it faster and tougher!
FEATURES
14 SCHUMACHER ON TOP
With Olly Jefferies and James Hart taking the wins at
Bedworth with the third round of this year's BRCA TC
Nationals, the two drivers would ensure they stayed in
the mix for championship honours in Modified and Stock
respectively.
42 TOP MARKS
Marks Jewitt and Young secured the wins at the second
MTC National hosted by Force Raceway in Yorkshire, a
permanent indoor on-road venue blessed with two tracks,
café and much more.
46 BACK ON FORM
After a poor weekend by his own standards, Neil Cragg got
his title challenge back on track