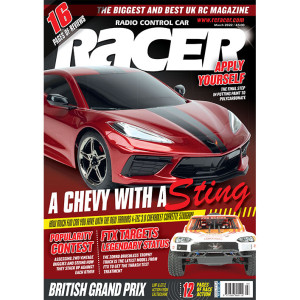 FEATURES
YOUR INSIGHT INTO THE BEST OF RC CARS,
PEOPLE AND TECHNIQUES.
22 TIME FOR PAINT
It's very easy to overly worry about airbrushing your first
body, so in the final part of our series to getting started,
we help you build confidence by showing you the order
in which to apply the colours, how to avoid colour bleed
through as well as other tips and tricks.
30 PAYNE AND GOODBAN ON TOP AT GP
Ahead of the BRCA National Championships, Eastbourne
Electric Car Club hosted the BRCA 1:12 British Grand Prix
at their Robertsbridge venue catering for LMP12 and GT12
classes. All the top indoor on-road racers were present
resulting in a very competitive weekend of action on
track.
36 MISSING IN ACTION
Mendip RC Raceway would host the final round of the
2021 Iconic Cup with just one of the six championships
up for grabs. Ironically the Stock TC class would be
decided without the title winner being present. On
page 36 you can find out how the weekend went down,
courtesy of John Weston.
50 CHALLENGING CONDITIONS AT THE
CLUBMANS
Aldershot hosted the penultimate round of the 2021 BRCA
Clubmans series with a wet then drying track making
it difficult for the racers but it was Darren Tickner and
Luke Lee who took the wins in 17.5T TC Blinky and F1
respectively, after the A finals.
REVIEWS
THE LATEST THRASH TESTS.
12 TRAXXAS 4-TEC 3.0 CHEVROLET
CORVETTE STINGRAY
John Weston gets his hands on the Traxxas 4-Tec 3.0 chassis
that provides a platform for the stunning Chevrolet Corvette
Stingray body. Using the latest 3.0 chassis means a longer
wheelbase, larger wheels and tyres, and a wider track that
enhances stability and handling compared to the original
4-Tec and this then is topped off with a detailed Stingray
body complete with a clear section to expose the engine bay
and the realistic recreation of the V8.
42 FTX ZORRO BRUSHLESS TROPHY TRUCK
The latest off-road model from FTX is their Zorro Brushless
Trophy Truck. With an RRP under  260 for the ready-to-run
that includes a Etronix 2900kV motor and a Voltz 3200mAh
2S LiPos as standard, the package offers some serious
performance per pound. John Weston gets behind the wheel
of the shaft-driven 1:10 4WD model and heads to some of the
toughest of off-road environments in this Thrash Test.
58 BEST OF VINTAGE BUGGIES
John Weston completes his comprehensive look at the
2WD buggies from the 1989 to 1993 era with some
analysis of the models raced at the last four Revival
meetings as well as looking back at how the most
popular models in 1993 compare today.