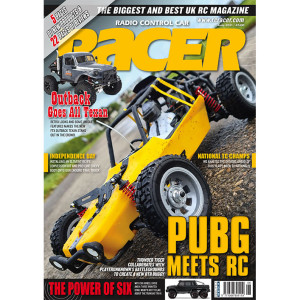 FEATURES
24 Touring Car Nationals
Preview
After 2020 saw very little racing action
and the cancellation of the national
championships, we are eagerly
awaiting this year's BRCA series to
start in June. Ahead of the five-round
championship, we analyse the
drivers who we think will challenge
for stock and modified honours as well
as the technical changes.
30 The Next Steps on the Trail
We first got our hands on the Element RC Enduro Trail
Truck Builder's Kit back in the January 2020 issue
so now it's time to give it some more attention with
a custom-painted Pro-Line body and the optional
Independent Front Suspension Conversion Kit.
36 Battery Analytics
In the RC hobby, the way we use our battery packs is very
different from most of the other applications we find them
in during everyday life. But what are the long-term effects
on the pack in terms of performance? In the first of a
series of articles, Andy Carter outlines the plans for some
serious battery testing…
50 Not Just a Transmitter
Manufacturer
Futaba is a brand most famous for producing transmitters,
receivers and servos than cars, and many readers of
a certain age probably started out in the hobby with a
version of their Attack stick radio. But as you will find out,
Futaba has been involved in producing 1:10-scale off-road
buggies and much more.
58 Traxxas Gives You More
Whilst the popular Traxxas TRX-4 range needs little or no
introduction, their TRX-6 option is a much rarer beast. But
what does an increase of 50 per cent in the wheel/tyre,
transmission and traction actually mean? Tom Stacey gets
his hands dirty with the TRX-6 Mercedes-Benz G63 AMG
6×6 scale and trail…
Reviews
THE LATEST THRASH TESTS.
10 FTX Outback Texan
Drawing upon inspiration from the 1940s and 50s pick-ups,
the new FTX Outback uses a modern RC crawler chassis
design and tops it off with a classic cab body with external
accessories, completed with a moulded flat-bed rear roll
cage with spare tyre. For the ultimate in scale looks, the
design does away with body clips and posts, and instead
uses a magnetic fixing at the front and hinge at the rear for
internal access. Supplied 99 per cent ready-to-run it didn't
take us long to get the 2000mAh NiMH battery charged and
the Outback Texan ready for some off-road action.
42 Thunder Tiger RC Sport PUBG Buggy
PlayerUnknown's Battlegrounds has been a hugely
successful online multi-player battle royale game that
features the buggy within it that you see here. Thunder
Tiger were quick to get in on the action and has produced
their own RC version that perfectly replicates the gaming
buggy that they hope will appeal to PUBG gamers and is
priced accordingly. We decided to get our hands on one to
see how the 1:12-scale performed in the real world.