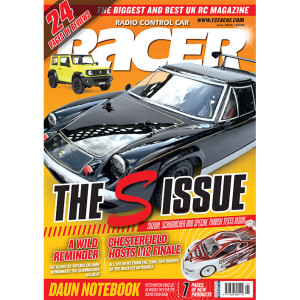 REVIEWS
12 FMS SUZUKI JIMNY 2020
This release from FMS is an officially-licensed 1:12-scale
version of the popular 2020 Suzuki Jimny. Not only does
the functional RC scaler feature an incredibly detailed
body, but the interior is highly accurate too. With a
capable chassis, 3-link rigid axle suspension and 2-speed
transmission, we headed outside to put the Jimny through
its paces.
22 SCHUMACHER MI8
The Mi8 is Schumacher's second generation of mid-motor
touring car that in prototype form won the 2021 BRCA
Stock National Championship. Developed around a design
with a lower centre of gravity and reduced overall weight,
we got our hands on the carbon fibre chassis version
and have been evaluating it over many weeks at different
venues, and can now offer our detailed thoughts on the
new platform.
44 TAMIYA M-06 LOTUS EUROPA SPECIAL
The newest Tamiya M-06 model to be reviewed is the
Lotus Europa Special that combines British history
with great attention to detail from the Japanese RC
manufacturer. John Weston builds the chassis, then treats
the body to a classic paint scheme with his interpretation
of the famous John Player Special livery before heading
to the track.
FEATURES
YOUR INSIGHT INTO THE BEST OF RC CARS,
PEOPLE AND TECHNIQUES.
30 CHAMPIONS CROWNED AT
CHESTERFIELD
Heading into the final two rounds of the BRCA 1:12
National Championships, the GT12 class had been
wrapped up but both the F1 and F2 LMP12 titles were still
to be decided. Kenneth Rogers reports on all the action
from the Chesterfield weekend.
36 CLUB FOCUS
Jenny Etherington takes a trip to the Indoor Raceway
Stevenage and catches up with Shaun Collins of SC
Models to get all the background on the midweek club
and what they have to offer local racers.
40 THE DAUN OF A FRONTIE ERA
Peter Winton hits the road alongside other members of
the British team competing in the Euro Touringcar Series
at Daun in Germany. He offers a wonderful insight into the
ETS, what makes it successful, why 1:10 TC racers
should include one of these meetings on their
bucket list as well as much more after a
long but enjoyable four-day trip.
58 WHEELIE WILD
The Schumacher Wildcat was
low-cost fun vehicle that targeted
newcomers to RC with a simpleyet-
durable design. After the Mini
and Vyper, Schumacher would
then go on to develop different
models off the platform with the
Wildcat Touring Car and then a
stadium truck option, all of which
are covered in this month's Iconic RC
Vintage Column.