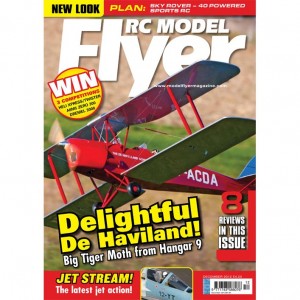 December 2012
FEATURES
26 MODEL MAGIC – BBC 'Wings' WW1 Duo rebuilt!
32 JET JOCKEY – Getting into Jets – part 5
44 SLOPE SLANT – More soaring views from the Hill…
48 PLAN FEATURE – Sky Rover A tough .40 sports aerobatic machine..
56 JET STREAM – The world of gas turbines – part 3
64 LIGHT FAANTASTIC – For small model afficiandos.
75 COMPETITION 1 Win 2 super Silverlit Indoor Helis!
85 COMPETITION 2 Win an E-flite A6M5 Zero 300!
88 NEW BUSINESS – We visit A glider repair service…
91 COMPETITION 3 Win a Dremel 3000 Multitool System!
REVIEWS
12 HANGAR 9 DH82 Tiger Moth – part 1
First part of an in depth look at this ¼ scale ARTF.
22 DURAFLY DH88 Comet
It's small, perfectly formed – and flies great!
38 LRP Speedbird Me 109
Fast and furious EP scale foamie.
72 SILVERLIT Xpress and Twister Helis
Something completely different!
82 E-FLITE A6M5 Zero 300
Super little EP version of this classic Pacific based fighter…
90 DREMEL 3000 Multitool System
Latest multitool with some innovative features.
REGULARS
6 NEWS – what's going on in the RC model world!
8 LANDING GEAR – seen these new products before?
18 THE BLACK ART – Electric Flight Column
62 OUTLINE – Dave Bishop says…
69 WORKSHOP – Hitec Audio Telemetry examined.
76 MILLERS TALES – part 3
Another aeromodelling pot-pourri…
80 DIARY DATES – what's on, where and when.
98 DEBRIEF – RC modelling meets technology.