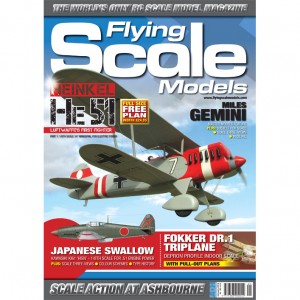 JANUARYÂ 2015 No.182
CONTACT
Just for starters
FULL SIZE FREE PLAN FEATURE
HEINKEL He 51 PART 1
54" span, electric powered, model designed by Peter Rake
KAWASaKi KI 61 'HIEN'
The Japanese fighter type that the Allies codenamed 'Tony'. Build it in 1:8th scale, 60" wingspan for .45 -.72 power
KI 61 SCALE DRAWING
1:50 scale fine-line three-views
Ki 61 FLYING COLOURS
Warpaint for the 'Tony' – there's lots of choice!
KI 61 TYPE HISTORY
Japan's most elegant fighter of the W.W.2 era. It entered service soon after the high-point of Japanese expansion and served until the bitter end in August 1945
QUIET ZONE
Depron Profile Scale Indoor Fokker Dr.1, 12.5" wingspan. Great for clubnight flying.
Miles GEMINI MASTER MODEL
Alex Whittaker reviews yet another scale masterpiece from the secretive 'Spartacus'. 118" wingspan
GEMINI SCALE DRAWING
1:40 fine-line three-views – the starting point for designing a scale model of this classic British touring aircraft.
GEMINI IN DETAIL
Close-up study of the Gemini on display at the Shuttleworth Collection at Old Warden
Miles GEMINI SUBJECT FOR SCALE
The last hurrah of the original Miles Aircraft Ltd, was this successful and attractive twin engine four seat tourer, with an elegance of shape that deserves attention among scale modellers
ASHBOURNE Scale weekend
Alex Whittaker marvels at the range of scale models in action at this annual Club bash
SCALE SOARING
Strictly for scale glider guiders
TECHNO SCALE
Scale related wed sites to surf.