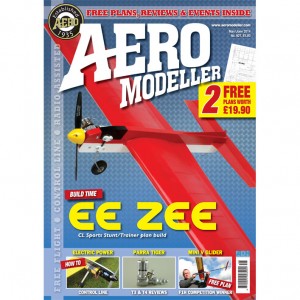 AeroModeller issue 009 (927) May/June 2014 (Published April 17th)
Heard at the Hangar Doors
Editorial and News from across the Globe
Up and Coming
Calendar of Events for the next months, including WWI CL carrier at Old Warden.
Event Reports
Indoor Scale at Manchester and FF at Viabon.
Off the Shelf
A look at new and innovative products.
F2C Team Racer Cooling
Ducting design considered by Stuart 'Supercool' Sherlock.
Laminated Longerons
Phil Williams on how to scarf and form difficult curved strips.
Power Trip
Review of the Parra Tiger T3 and T4 competition engines, by Maris Dislers.
My First 'Proper' Model
Jim Crossley, age 8, builds and flies the West Wings Jade.
Better Propellers part 4
John O'Donnell looks at rubber winders, winding tubes and stooges.
Flapper Revival and Success
The recent developments with flapped airfoil F1B models, by Mike Evatt.
Free Pull-Out Plan 1 – EE ZEE Control Liner
Two models on one plan for basic CL trainer and sport stunt, by Dave Cowburn
36 Free Pull-Out Plan 2 – Mini V, F1H/A1 Glider
A no-nonsense competition winning model, by Chris Parry
Scale Matters
Bill Dennis on Pendulum Control.
The Arne Hende Story – Part 2
John Goodall concludes by looking at Arne's later production, including multi-cylinder engines.
Aero Post
Readers letters by post and email.
Electric Powered
Control Line Switching To Electric Power …the Easy Way, by John Benzing.
Petrol Vapour
Part 2 on choosing a 'Sparky' engine and model, by Peter Scott.
Free Flight Retrieval
Part 2 – Martin Dilly explains what to do on the flying field.
For Old Times Sake
Don Howie's Vintage perspective from Oz.
In Scale Circles
An Introduction to Scale Control Line, by Bernard Seale.
Tail End Charlie
The thoughts of Chris Ottewell.