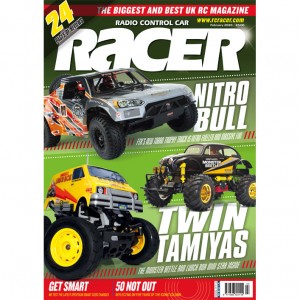 REVIEWS
22 FTX TORRO
Nitro is back with this RTR from FTX. The design is a
classic desert trophy truck and comes equipped with 4WD
and a Force .18ci pull-start engine, waterproof servos and
a 2.4GHz radio.
36 TAMIYA SW-01 LUNCH BOX MINI
The Star Unit series from Tamiya is a range of
fun-focussed machines, and the Lunch Box Mini is the
latest model that pops wheelies on demand and will bring
a smile to the face of any RC fan.
64 TAMIYA MONSTER BEETLE BLACK
EDITION
The Black Edition is the newest take on the Monster
Beetle from Tamiya. Based on a 2WD chassis, the model
comes with a Volkswagen Beetle body fitted out with big
tyres for huge amounts of off-road fun.
FEATURES
14 WINNING AT POOLE
The second round of the BRCA LMP12 Nationals headed
south with more wins for Olly Jefferies and David Spashett,
whilst Olly Payne won on his return.
16 DRIFTING IN STYLE
We look at all the different body styles you can choose from
for your drifter as well as steering set-up.
32 BUGGYTHON 2019
We report on the unique Buggython weekend that sees a
team of three build a Tamiya TT-02B, then go head-to-head
on the track, finishing with a two-hour endurance race.
46 WESTON AT 50
After five years, John Weston picks out the highlights of
his 50 columns including the featured cars and some of the
people who have helped contribute.
52 OJ DIARY
In this month's diary, Olly Jefferies brings us bang up
to date with how his racing has been going as well as
outlining the development work he has been doing on the
new Schumacher Eclipse 3.
56 4RUNNER ON TOP
All the details of how we installed our painted Toyota
4Runner body onto our RC4WD TrailFinder 2 chassis.