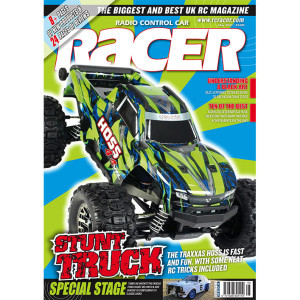 Features
YOUR INSIGHT INTO THE BEST OF RC
CARS, PEOPLE AND TECHNIQUES.
24 MTC Insight
The Mini Touring Car Nationals continue to gather
momentum and the 2020 championship took place despite
the best efforts of coronavirus to prevent it happening.
Ahead of another full season in 2021 that takes place over
six events at indoor venues all around the country, Mark
Young, the main man behind the MTC Nationals offers his
guide to the series, the classes on offer, the drivers to
watch and much more.
48 Ten Years of Iconic
This year sees Iconic RC celebrate their tenth anniversary
so in a fitting tribute, John Weston, one of the founders
reflects on the decade of events and how they have gone
from strength to strength with regular off- and on-road
meetings, as well as the world-famous Revival that takes
place every summer.
58 Foam Matters
Racing on foam tyres and using additive for the first time
can be very challenging, even for an experienced racer
so who better to talk through some of the most popular
scenarios than top on-road driver, Olly Jefferies, with some
top tips and guidance that will benefit the club racer as
well as those looking to up their game and set-up.
Reviews
THE LATEST THRASH TESTS.
10 Traxxas Hoss 4×4 VXL
The Hoss is a brand new model to the Traxxas line
featuring a monster truck-design packed with brushless
power from the 3S LiPo and Velineon 540XL motor.
Although this machine is capable of insane acceleration
and 60MPH top speed, the Traxxas Stability Management
keeps it all under control as we found out in the snow and
wet conditions when we unleashed the beast.
30 Tamiya MF-01X Ford Escort Rally
Mk II
The full-size Ford Escort Mk II is a classic winning the RAC
Rally from 1975 through to 1979, and Tamiya has faithfully
recreated the body shell in their latest release and have
even painted it for you. The body sits on top of the 4WD
MF-01X chassis offering great performance on both sealed
and loose surfaces. Once we built our review model, we
headed to the rally stage at Goodwood for some testing
and atmospheric photographs, and complete a very
enjoyable review.
40 Schumacher Mission FT
The front-wheel drive class in 1:10 touring car
continues to evolve with more manufacturers
joining the scene. The latest "frontie" to grace
the pages of this magazine is Schumacher
with their Mission FT model, designed as in
introduction to the category. It offers all the heritage
and innovation you expect from the British company, but
priced accordingly and that will only add to its appeal.
Regulars
NEWS, LETTERS, DATES, NEW PRODUCTS
AND OUR VIEWS.
6 News
Iconic RC adds a second Revival meeting for 2021, Serpent
announces a radical new design for their 4WD off-road
buggy, the King of Clubs and TORC join forces to grow
1:10-scale electric on-road regional racing, Nemo Raceway
confirm new details for their Dirt GP, Swindon Radio
Controlled Model Car Club secures a new site for their 1:10
off-road venue as the Iconic Cup calendar changes to avoid
government restrictions.
18 Inside Lines
All the latest stuff including kits, accessories, option parts
and much more.
20 Editorial
We just can't wait to be back at the race track.
20 Who, What, When and Where?
Three pictures from the past but who are they?
21 Time Warp
What was happening one, five and ten years ago.
57 Coming Up
What you can expect to see in the next month's issue of
Racer.
61 Dates
Plan your schedule for the next few months with our racing
calendar.
64 Buyers Guide
Where to shop in your
area with Racer's
comprehensive store
guide.
66 All Over
Reaping the success of
the vintage racing scene.