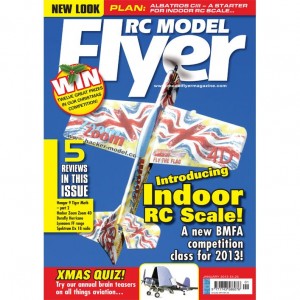 January 2013
FEATURES
16 CHRISTMAS QUIZ! A bit of fun, after the turkey?
18 JET JOCKEY – Getting into Jets – part 6
42 SCALE GLIDING – More silent-winged scale…
48 FREEBEE PLAN – Albatros CIII
An idea for the new BMFA scale comp class…
56 INDOOR SCALE CONVERSION – FF gems get RC!
Pete Iliffe becomes converted…
66 RALLY RETRO – LMA Gaydon 2012
Excellent new large models on show…
69 MAA HOLIDAYS – book now for 2013!
74 CHRISTMAS COMPETITION – Spot the plane!
Twelve prizes to be won!
76 LAKESIDE BEAUTIES – Flying RC off water in Brittany.
82 ISA NOSTALGIA DAY – Old 'uns at Ivinghoe…
86 SCALE FEATURE – DH 88 Tiger Moth.
REVIEWS
12 HANGAR 9 DH82 Tiger Moth – part 2
Concusion of an in depth look at this ¼ scale ARTF.
28 Hacker Zoom Zoom 4D
Foam fun EP machine.
34 SPEKTRUM DX18 – part 1
We play with this super trannie…
46 LYONAEEC FF RANGE
Two little planes to get the kids started…
62 HOBBYKING HURRICANE
A one metre span EP foam fighter…