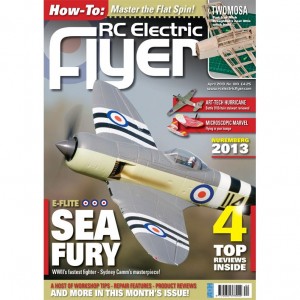 Issue Ten of RC Electric Flyer
REGULARS
4 Newsdesk
The latest round up of news and what's been happening in the world of RC
6 New Products
Our trip around the model shops bringing you the latest innovations
22 Your Call
Your letters and opinions aired
30 Questions & Answers
Discover the meaning of all those letters and numbers on your batteries!
72 Top Tips
So many tools needed for aeromodelling can be found around the house!
76 Something to read
Latest books worth a read and ideal for reference
79 Next Month
Plenty to get your teeth into next month including the latest products tested on your behalf!
80 Dates and meetings
Don't miss the events this month plus our club feature
82 Over and Out
More power equals more weight – light aeroplanes fly much better than heavy ones so less can be more, QED!
REVIEWS
14 E-Flite's Hawker Sea Fury
Sir Sydney Camm's wartime masterpiece modelled by E-Flite – full review of their superb looking rendition of this famous Warbird
40 Art Tech Hawker Hurricane
The Hurricane pretty well carried the torch for us during the Battle of Britain and ever since has been a firm favourite for aeromodellers the world over!
50 Parkzone Mini Vapour
At last, an aeroplane you really can fly in your lounge!
66 Ramiel
Fancy something a little more capable than you are – try Ramiel for size!
MODEL EXAMPLE
56 Heron
DH Heron for electric power – Andrew Gibbs details a superb model – all twelve feet of it!
HOW TO
36 Aerobatics
How To Fly Aerobatics – this month we cover the flat spin and its derivatives
46 Basic Aerodynamics For Dummies Professor David Baxter explains in simple terms, how to make your models fly better
68 Avoiding Lipo Fires
Lithium battery technology is our life blood today – a must read for electric fliers of all levels!
SHOWTIME
24 Nuremberg
Nuremberg Toy Fair – Reporting in from this years big show, Ken Sheppard shows us what's new this year
WORKSHOP
32 Twomosa Part 1
A great little build for those looking for a springtime project that won't break the bank
60 Insanity
Two for the price of one – another super little spring build for those with a sense of adventure