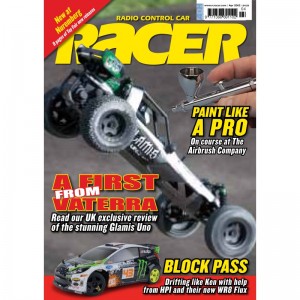 Clean Up Your Act – A few minutes spent cleaning your RC vehicle immediately after use will prolong its life and save you time in the long run as Justin Noble offers his experience.
Nuremberg New Releases – Eight pages of all the new items on display at the annual Nuremberg Toy Fair in part one of our detailed report.
Champion's Choice – The Sanwa M11X flagship steerwheel was used by such superstars as Ryan Cavalieri and Lee Martin, but has now been updated with the M12 and represents the cutting edge of transmitter technology, showcasing the company's extensive design and development prowess as we found out.
LRP-Equipped World Champ – In this month's column, Jurgen Lautenbach looks forward to LRP Touring Car Masters and reflects on the IFMAR 1:8 Off-Road World Championship from Argentina.
A Unique Golf Experience – Joe Brown goes BTCC mad as he adapts the latest Tamiya TT-01E Golf into an AmD replica.
Diff Out – A guide to rebuilding and setting up your differential with Olly Jefferies including ball and gear-types.
Stiles Wins in Style – A double win at Tamworth for Mark Stiles did his championship challenge the world of good as the CRC driver won the stock and modified classes at round three of the National series.
World Champ Updated РThe Reventon Pro from Speed Passion is the new top of the range brushless speed control for the 1:10 competition market. With a team driver line-up including J̦rn Neumann and Lee Martin developing it, we were interested to see how it felt on the track and try out one of the optional extras.
Airbrushing On Course – ADH Publishing were recently invited to spend a day at The Airbrush Company in West Sussex on one of their popular airbrushing courses. Joe Brown jumped at the chance for a day playing with paint and found out how invaluable one of these courses could be, even to someone with some airbrushing experience.
Spektrum Go Fourth – The new DX4S is a four-channel telemetry equipped transmitter from Spektrum. With the extra channel, it will appeal to a wide range of users who desire three and four channels for their chosen use.
HoBao H2 Pro – The first electric-powered 1:10 off-road competition buggy from HoBao gets the thrash test treatment as we look at the adaptable 2WD platform of the H2 in Pro spec guide including a race meeting at a favourite challenging indoor venue.
Traxxas Rally VXL – Traxxas are back with another rally car as this time they turn their attentions to the 1:10 scale class complete with a VXL brushless electrical package and seven cell NiMH battery pack.
Tamiya TA-02T Desert Fielder – Racer newbie Carl Robertshaw takes a look at another re-release from Tamiya with the TA-02T Desert Fielder.
Vaterra Glamis Uno – The first kit we have received from new brand Vaterra is their stunning Glamis Uno sand rail. Inspired by the dunes in the US, we headed to our own favourite test track to see what the 1:8 off-roader had to offer.
HPI WR8 Flux Ken Block – It may be another Ken Block replica but the WR8 Flux version from HPI is an awesome piece of kit. Starting out with a stunning Fiesta replica body, the performance is equally as enthralling courtesy of a powerful brushless set-up.
Xray's 1:12 Link Specs – The latest update for Xray's 1:12 platform sees the manufacturer make many subtle chassis changes and perfect the design for the latest brushless and LiPo demands.
LRP S8 Rebel TX RTR – The Rebel TX offers an entry into nitro-powered off-road on a stable and very capable 1:8 platform. Powered by an impressive Z.28R Sport engine, VTEC Kamikaze truggy tyres, big bore shocks and cab-forward body shell are included with this race bred RTR truggy.