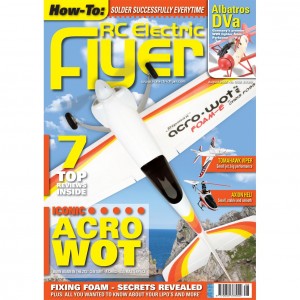 Issue two of RC Electric Flyer Magazine
REGULARS
4 Newsdesk
The latest round up of news and what's been
happening in the world of RC
6 New Products
Our trip around the model shops bringing you the
latest innovations
26 Your Call
Your letters and opinions aired and the best wins a prize
82 Model Example
Shane Harding's superb scratch built Hawker Hunter for EDF
88 Something to read
Latest books worth a read and ideal for reference
95 Next Month
See what we have coming up for you including the
Crossbow from PB models and Horizon's snappy little
Leader 480 – two neat little pattern ships for the club flier!
96 Dates and meetings
Don't miss the events this month plus our club feature
98 Over and Out
Gyro's are making huge inroads into our hobby, helicopters
have employed these for decades but the latest innovations go much further!
REVIEWS
16 Albatros DVa
Richtofen's new WW1 fighter in foam from Parkzone reviewed in full
28 Acro Wot – the club modellers favourite!
Chris Foss and Ripmax have come up with a 21st century version of an old classic – full review
42 Hitec on a budget
Hitec's entry level radio is more capable that some – fully reviewed inside
44 Sirius miniature Cessna tribute
Small and perfectly formed – Axoin's baby Cessna look alike is a neat little park flyer – full review
48 Axion Excell 200 RTF
This little gem from Axion is smooth and stable and great fun for indoors or outdoors enjoyment – full review inside
58 Here comes the cavalry ST 190
Mick Broughton gives Ripmax's super little ST FW 190 'Butcher Bird' the once over – fully reviewed inside
68 J-10 Airshow Edition
Everyone loves jets – big jets are impressive but expensive, here's a little one with big ideas that won't break the bank!
78 Tomahawk Viper
A class act from Al's Hobbies, the Tomahawk Viper Jet reviewed by Jet Jock, Jamie Cuff
HOW TO
36 Airbrush your foamie
Dare to be different – we show you how this month with the help of Mick Broughton
46 Fix foamies Part 2
Our guide to fixing not throwing away your crashed foam models
64 Get that installation right
Follow the Ed's advice on achieving the perfect installation, well fitted models fly better and last longer!
72 Look after your LiPo's
Without them we couldn't do what we do, yet still there is much misunderstanding on their treatment – we show you how to glean the maximum from your power investment!
76 Master your soldering iron
You can't fly electric models without needing to break out the soldering iron once in a while – it's easy when you know how, so we show you how!
WORKSHOP
52 Fun Fighter conversion
An old favourite revisited and electrified, the famous fun fighter range is back and more fun than ever – full build feature
SHOWTIME
84 Weston Park
The biggest. boldest and best show on the circuit today – photo report from this hugely popular annual show