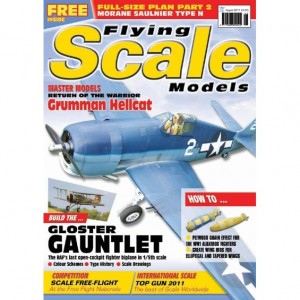 Issue 141
Contact
Scale model news
Top Gun
They came from all corners of the world again to take part in the most prestigious event of the annual R/C Scale calendar.
FULL-SIZE FREE PLAN FEATURE PART 2
MORANE SAULNIER TYPE N
Completing the construction of the electric powered model designed by Peter Rake and built by Steve Perry.
Gloster Gauntlet
Build this 1/5th true-scale, 78.7" (2000mm) wingspan model of the RAF's last open cockpit fighter biplane. Suits 2- 2.4 cu.in. four stroke engines.
Gloster Gauntlet Scale Drawing
1:40 fine-line three views
Gloster Gauntlet Flying Colours
Squadron colour schemes and warpaint
Scale @ The BMFA Free Flight NATS
Alex Whittaker snapped his photo report in a tiny gap in the weather, as two comps ran together!
How to plot wing ribs
Lofting wing ribs for elliptical wings with progressive aerofoil change from root to tip.
Return of the warrior
Ray Anderson's one-sixth scale scratch-built veteran Grumman F6F Hellcat
The quiet Zone
This month: How to reproduce the woodgrain effect on a WW1 Albatros fighter fuselage
Techno Scale
Mike Evatt walks the web for more TechnoScale Topics