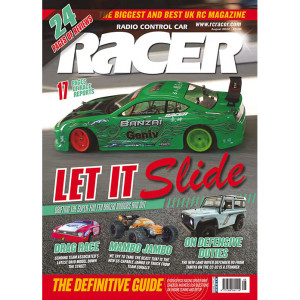 REVIEWS
THE LATEST THRASH TESTS.
22nxBANZAI
Just like full-size drifting, the RC version is gaining traction with more clubs catering for the category around the country. So we thought if you wanted to get Into RC drifting, how would an entry-level machine fair. Enter the FTX Banzai that retails for under £130, but appears lo hava a decent spec and good looks that will do it more than Justice when you hit the local car park or club. We tried out the Banzai al a number of locations and to say that we were a little impressed would be a huge understatement.
32 TAMIYA CC-02 LAND ROVER
DEFENDER 90 1990
Recreating the famous Land Rover Defender 90 model from 1990, Tamiya has created a detailed RC version in
1:12-scale based on the CC-02 chassis. The kit comes with a detatted Lexan body with moulded extras like an outer roll cage, front grille and spare tyre cover, that sits upon a 4WO transmission, and front and rear 4-tink rigid suspension setup. As well as our normal build, we run through our authentic custom paint job and find out which options we recommend when it comes to choosing the best servo mounting, different/at and gearing options.
48 M CORALLY JAMBO XP 6S
If you want an RC model that offers big power and tots
of fun to match, there is a wealth of choice out there at the moment and the Jambo XP 6S from Team Corally is Just one of those that will tick all the /Joxes. As the name suggests, this is a 6S-capable truck that uses a proven platform to ensure It has the strength and durability to handle claimed speeds of up to 60MPH! A proper thrash test was required and we ensured that the Jambo got it at the local skate park for the Jumps and the open grass area to check the top speed.
58 ASSOCIATED DRlO RTR
The DR1D from Team Associated is the ready-ta-run version of their drag racing platform. We received the version with the /Jotd red Pro Rea/ct Lucas OIi colour scheme that looks great on the muscle car-styled body that is coupled with a huge wing, and large rear wheels and tyres that Just about sit Inside the arches. Designed to go fast in a straight line, we headed to a smooth stretch of asphalt ta see how the model handled out of the box. Don't be foaled by the fact that this is a budget-conscious RTR, as this is a fast package as we found out …
81VNE UP
Get your engine settings perfectly set with our Q&A with Reds Racing driver, Mike Cradock, who offers a detailed and informative guide to tuning, clutch setup, and much more.
16 THE CUP HEADS WEST
The 2022 Iconic Cup headed to the West London Racing Centre for the second round of the series that saw a very healthy entry of around 90 racers competing for glory
in the six classes that are all based around the popular Tamiya chassis,
28 BOOTS AT HOME ON OLD SCHOOL SHREWSBURY
Tlle track at East Shrewsbury is a traditional dirt one that is loose, dusty and bumpy, just haw they used to be before ail and other additives were used ta increase grip and reduce wear. Sa when the competitors headed to the West of the country for round two of the 2022 BRCA 1:8 Off-Road Nationals, the hard work would begin with regard to setup and tyre choice. And it was here that the creme rose to the top with Elliott Boots showing his class with TQ and the win for Sworkz and Reds Racing.
38 REVIVAL PREP
With two Revivals in 2022 and both enjoying a maximum entry, there are lots of drivers in the middle of their preparations for the July and September events. In the latest Iconic RC Vintage Column, John Weston picks five racers who are attending each Revival to find out a little bit more about them including the buggies they will race and their current status of vehicle prep.
42 CRACC LOVES THE BEAUTIFUL SOUTH Tlle popular seaside town of Southport to the north of Uverpoal hosted the second of six BRCA Nationals in 2022. Neil Cragg was in fine form at round one and that continued as the Charley-based racer made the short trip from his home to the coastal venue where he would dominate both days for Team Associated.
54 TEAM ELLIS TAKE ADUR KOC WINS
Paul and Jonathan Ellis delivered wins in the wet as
the weather made for tough on track conditions as well as affecting the machinery as the King of Clubs series headed to Adur on the south coast for round two.