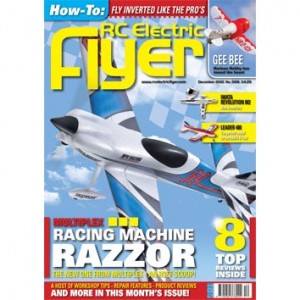 Issue Six of RC Electric Flyer
REGULARS
Newsdesk
The latest round up of news and what's been
happening in the world of RC
New Products
Our trip around the model shops bringing you the
latest innovations
Top Tips
More money saving tips from Colin Usher
Your Call
Your letters and opinions aired
Questions & Answers
Electronic terms can be confusing, what they mean
Something to read
Latest books worth a read and ideal for reference
Next Month
Plenty to get your teeth into next month including the
latest products tested on your behalf!
Dates and meetings
Don't miss the events this month plus our club feature
Over and Out
Aircraft that are neither R/C nor Free Flight yet fly
themselves are on the horizon!
REVIEWS
Art-Tech Mini P-47
Everybody loves a Thunderbolt – this one is fun
Multiplex Razzor
First review of the latest Elapor gem from Multiplex
Gee Bee
A machine with a killer reputation – How did Horizon
Hobby tame theirs?
Bluetooth Heli
Need a flying friend – ET says phone home!
Leader 480
Our reviewer claims this to be the perfect B Licence machine
Pogo
Fast and sleek, something a little out of the rut from E-Flite
Iwata Airbrush
The best airbrushes in the world are made by Iwata –
here's their latest
HOW TO
F5B
Fancy something a little more challenging than your
everyday sports flying – take a look at F5B
Aerobatics
Nail that inverted flying – our guide,
Glues
It's a stick up – adhesives clarified
Tissue
There is still very much a place for traditional covering
techniques – Mick Broughton shows you how
SHOWTIME
Indoor
Baby it's cold outside, the indoor season is here
WORKSHOP
Flutterbug
Getting the girls involved has always been a challenge
but Teri bucks the trend!
Mystic
Galaxy Models describe their old faithful as 'Big and
Bootiful' and we'd not argue with that!