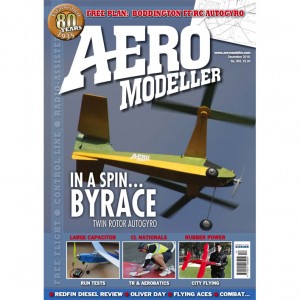 AeroModeller issue 037 (955) Dec 2016 (Published Nov 17th)
04 HEARD AT THE HANGAR DOORS
EDITORIAL, NEWS AND VIEWS.
07 UP AND COMING
CALENDAR OF EVENTS FOR THE NEXT
MONTHS.
08 OFF THE SHELF
A LOOK AT NEW AND INNOVATIVE
PRODUCTS.
10 MANHATTAN MAXES
WHAT IS A RUBBER POWERED FF FLYER TO
DO IN THE HEART OF THE CITY?
14 FESTIVAL OF FLIGHT
THE LAST OLD WARDEN OF THE SEASON
HAS AN OLIVER ENGINES THEME.
16 OLIVER COMBAT
THE DELAYED COMBAT NATS AND BOUTS
FOR THE NEW OLIVER TROPHY. MICK LEWIS REPORTS.
20 BETTER… DURABILITY
JOHN O'DONNELL DESCRIBES STRONGER
FUSELAGE CONSTRUCTIONS.
24 CL TEAM RACE NATS
MALCOLM ROSS REVELS IN THE NEW
FACILITIES AT THE BARTON, MANCHESTER CONTROL
LINE SITE.
28 CL AEROBATICS NATS
SELDON IN ESSEX WAS THE VENUE FOR THE
GOLD TROPHY EVENT. PETE TINDAL REPORTS.
30 FREE PLAN –
BYRACE TWIN AUTOGYRO
AN UNPUBLISHED DAVID BODDINGTON DESIGN FOR FF
OR SIMPLE RC.
38 SPITFIRE MKXXII
PART 3. IVAN TAYLOR ON CANOPY FORMING,
COVERING AND FINISHING.
44 POWER TRIP –
REDFIN KOMPISH FI
MARIS DISLERS PUTS THE LATEST REDFIN 0.5CC DIESEL
THROUGH ITS PACES.
47 COVER TO COVER
CHRIS OTTEWELL REVIEWS NEW AVIATION
BOOKS.
50 CAPACITOR POTENTIAL
DUNCAN PEPPER RECOUNTS HIS TESTS
TO GET MORE POWER AND LONGER RUNS FROM
CAPACITOR STORAGE.
58 "DON'T TELL THEM THEY'RE
LEARNING!"
JON KEMM ON THE POPULARITY OF FF BUILDING AND
FLYING AT HIS SCHOOL.
60 FLYING ACES
THE PETERBOROUGH CLUB SCORE ANOTHER
HIT WITH THEIR SMALL FIELD EVENT.
62 DIFFERENT BY DESIGN
DICK TWOMEY RECOUNTS HIS
IDIOSYNCRATIC APPROACH TO MODEL LAYOUT.
66 TAIL END CHARLIE
THE THOUGHTS OF CHRIS OTTEWELL.