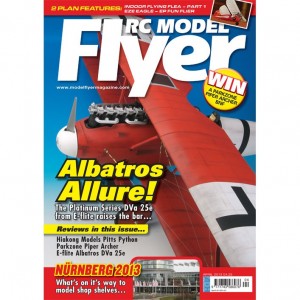 April 2013
FEATURES
16 SHOWTIME – NUREMBERG 2013!
All the stuff seen at Europe's best modelshow…
24 FEATURE – MAKE AN ENGINE – part 2
One man's love of making reproduction model diesels.
40 GAS TURBINES – JETSTREAM 5
The Flying Legends Hawker Hunter ARTF has flown…
46 PLAN FEATURE – eZe EAGLE
Traditional build EP sports fun-fly…
57 COMPETITION – WIN AN ARCHER!
A Parkzone Piper Archer BNF to be won!
58 FREEBEE PLAN – FLYING FLEA – part 1
A FF scale indoor model, just right for RC conversion – fuselage this month, wings next month…
72 FEATURE – BUYER BEWARE – part 2
The second of a three–part article on buying secondhand, wisely…
86 FEATURE – THE LIGHT FANTASTIC
How to print tissue with scale deatail…
REVIEWS
10 E-FLITE ALBATROS DVa 25e
The Platinum Series WW1 fighter raises the ARTF bar.
36 PARKZONE PIPER ARCHER
A scale EP foamie of a popular lightplane……
54 HIAKONG PITTS PYTHON
A new brand of lightweight 3D semi-scale biplane…
REGULARS
4 NEWS – what's going on in the RC model world!
30 MILLER'S TALES – More Clubman Capers…
64 SLOPE SLANT – The view from the hill.
76 OUTLINE – Dave Bishop says…
78 THE BLACK ART – Electric Flight Column
82 WORKSHOP – Gilmore to TravelAir – an unusual ARTF makeover, part 2.
90 DIARY DATES – what's on, where and when.
98 DEBRIEF – Solar panel technology breakthrough for full-size EP aircraft!